Let's talk about salads. Boring, you may think? Think again, with these awesome creations from bloggers around the world. We've got something for every occasion here! Noodle salads, pasta salad, potato salad, bright and colourful salads, nourishing salads… we've got it all.
There's a salad for every palate in this tasty and bountiful collection of recipes – so grab a warm cup of tea and a comfy seat and get ready to drool!
1. Rainbow Nourishments – Wintery Beetroot and Lentil Salad 
I know it's called a wintery salad – but, seriously, who wouldn't eat this any time of the year?!
2. Vibrant Food Stories – Ginger Lime Soba Noodle Salad with Radish and Turnip
Everyone needs an excellent noodle salad to add to their cooking repertoire.. and this is the perfect one!
3. Domesticate Me – Roasted BBQ Cauliflower Salad
Wowsers! The colours and shapes of this glorious dish! If you didn't eat this – you could totally put it on your wall as artwork!
4. Opti Cook – Super Duper Vegan Caesar Salad
Caesar Salad is one of our absolute favourites – and how's this for a vegan one! Ah-maze-ing!!!
5. Veggies Save the Day – Roasted Chickpea Fattoush Salad
This super salad is full of nourishing goodness to keep your body happy!
6. Glue and Glitter – Summer Salad with Pickled Peaches and Blueberries
Fruit in Salad? Trust me, it's a thing! And a good thing – if you haven't tried it, this would be the perfect recipe.
7. Delightful Vegans – Creamy Vegan Potato Salad
This list wouldn't be complete without a good old potato salad, would it!?
8. Beautiful Ingredient – Mango Slaw with Peanut Lime Dressing
Mango in Salads is one of the best things on earth. And teamed with a lime and peanut dressing… Life couldn't get better!
9. Veggie Inspired – Loaded Veggie Chopped Kale Salad with Tangy Mustard Vinaigrette 
An amazingly colourful creation –  filling your body with an army of anti-oxidants!
10. Vegan Richa – Southwestern Pasta Salad with Black Bean Dressing 
Everyone needs a pasta salad recipe to take to their next vegan BBQ! Try out this awesome one!
11. My Darling Vegan – Blackened Tempeh, Avocado, and Charred Corn Salad with Chipotle Ranch Dressing
I could have this for dinner every night. Every. Single. Night.
12. Strength and Sunshine – Sunshine Spiralized Beet Salad
Isn't the colour of this salad just gorgeous! We've got golden beets growing in the garden at the moment and can't wait till they're ready to try out this salad!
13. Savory Tooth – Cold Peanut Noodle Salad
Peanut Noodle Salad! Trust me. You need this in your life!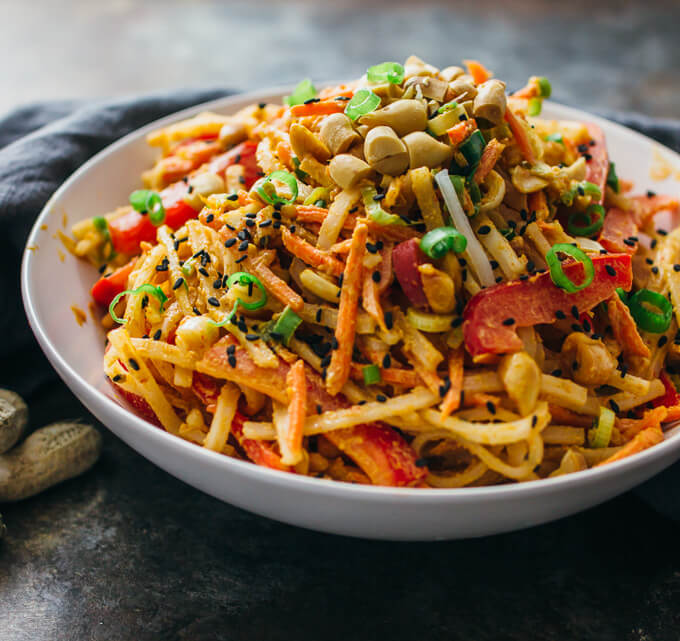 14. Green Evi – Red Currant Salad
Green Evi's salads are so beautiful you don't even want to eat them!
15. Cadry's Kitchen – Tomato and Sweet Corn Salad with Jalapeño Dressing 
You had me at the Jalapeño Dressing! This is a must try – with the creole spiced tofu!
16. Healthy Slow Cooking – Instant Pot Rainbow Panzanella Salad with Idaho Potatoes 
An awesome, filling and deliciously mouthwatering salad meal in a bowl!
17. Green Evi – Spiralized Zuchhini, Cherry and Lentil Salad
 Stunning artwork and superb taste – all in one delightful salad!
18. Delightful Vegans – Pesto Kelp Noodle Salad
Ever tried Kelp Noodles? Try out this recipe, you won't be disappointed!
19. Vegetarian Gastronomy – Ultimate Taco Salad with Savoury Walnut Sun-Dried Tomato Crumble 
Taco Salad! This is a new idea to us, and a fantastic one too!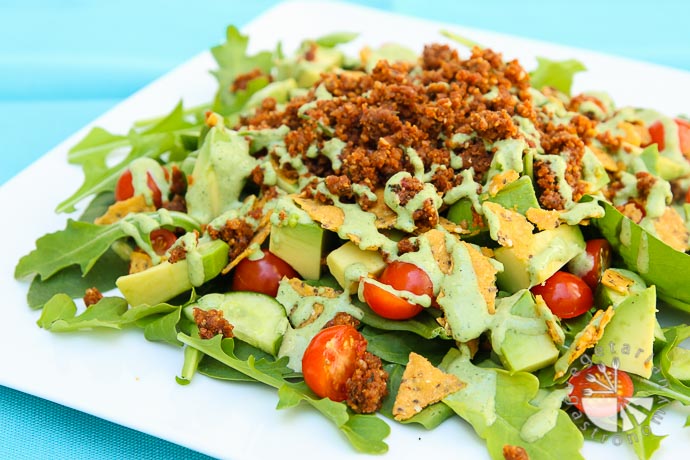 20. Sprinkle and Saturdays – Soba Salad with Miso Tahini Dressing 
Salad and noodles will always be best friends.
21.Vegan Sandra – Creamy Rice Noodle Salad with Pan Fried Mushrooms 
They're still best friends! Now with fried mushrooms tagging along for the ride!
22. The Mostly Vegan- Kale Caesar Salad with Garlic Tahini Dressing
Another beautiful looking Caesar Salad, and don't the croutons look extra crispy!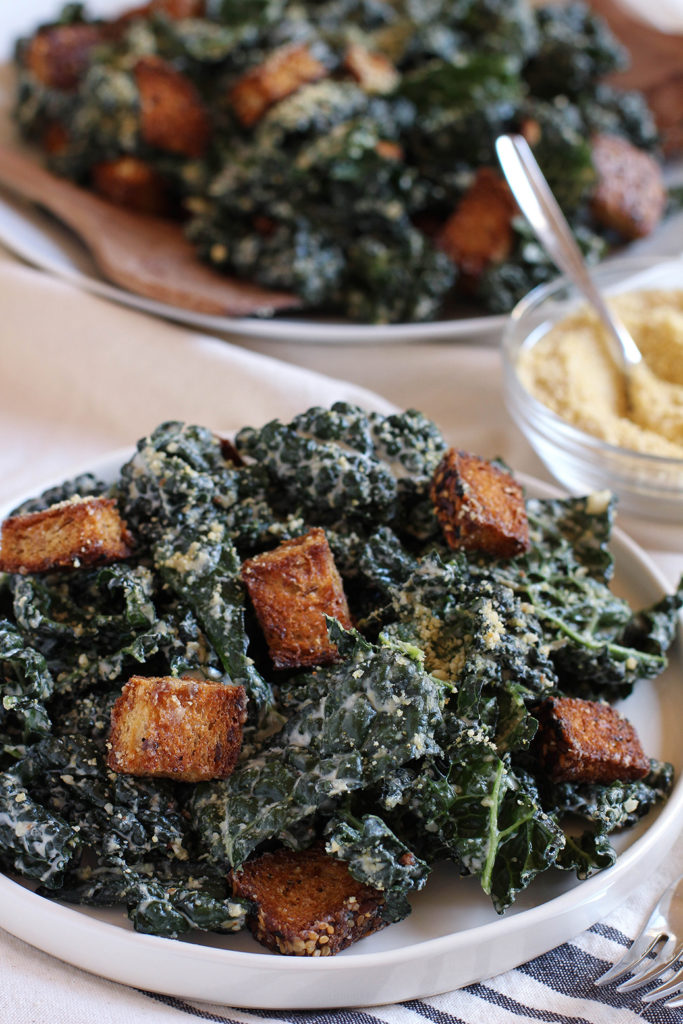 23. Quite Good Food – Eggplant and Lentil Salad with Tahini Dressing 
A hearty, nourishing meal. Roast eggplant is the best – so soft, gooey and delicious!
24. Harriet Emily – Asian Brown Rice Salad
I love the simplicity of this dish. Gorgeous, minimal and tasty!
25. Apollo and Luna – Raw Zucchini Salad and Avocado Oil
Colourful for the eyes and the taste buds!
26. The Circus Gardener's Kitchen – Roast Chickpea and Avocado Salad 
The creaminess of avocado, combined with the crunch of the roast chickpeas. I'm in heaven.
27. A Virtual Vegan – Smoked Tofu Apricot Salad
Apricot and tofu is a winning combination. Try it – I dare you!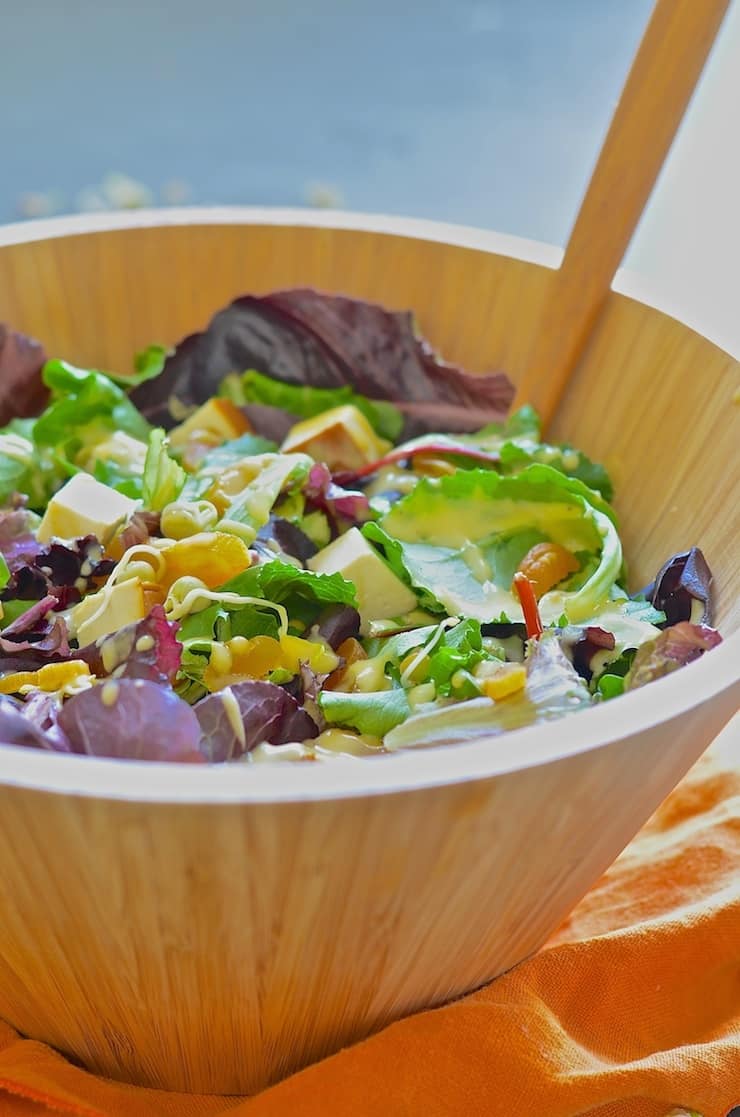 What's your favourite salad? Let us know in the comments below!!